Discover the ancient town of Hoa Lu Ninh Binh – the ancient Vietnamese soul in the heart of the city
The cultural life, customs and traditions of Dai Viet's traditional craft villages from the 10th century are reproduced in the living space of Hoa Lu ancient town in Ninh Binh , attracting many visitors to visit on the occasion of the Lunar New Year. the begin of the year. Hoa Lu Old Town is one of the brand new destinations that you can consider visiting this summer. This place has a very good view with an ideal entertainment and dining complex, so it attracts a lot of young people to visit. If you have the opportunity to travel to Ninh Binh in the near future, do not miss this ideal place!
A brief introduction to Hoa Lu Ancient Town
Address: Campus of Ky Lan Mountain – Silver Pagoda at 1 Tran Hung Dao, Tan Thanh ward, Ninh Binh city.
Located on the campus of Ky Lan Mountain , Hoa Lu Ancient Town was built based on the idea of ​​traditional culture of Dai Viet country in the 10th century. It can be said that Hoa Lu Ancient Town was born to recreate show and restore all the beauty of the architecture as well as the culture of that time. Coming to this place, you will be delighted to have fun, learn and visit the traditional craft villages of our country such as Dong Ho painting village, Bodhisattva pottery village, Y Yen lacquer … extremely interesting.
How to move to Hoa Lu Ancient Town in Ninh Binh?
Hoa Lu Street is located in the center of Ninh Binh city, so the traffic is convenient, so the process of moving here is very easy. Visitors will have many options for their Ninh Binh tour .
From Hanoi, you go to Giap Bat bus station to move to Ho Chi Minh City. Ninh Binh. Because this city is also located right next to the National Highway 1A axis, you can catch any bus from Hanoi to the central and southern provinces. If traveling by private car to go to Hoa Lu ancient town in Ninh Binh , everyone should follow Phap Van – Cau Gie highway towards Ninh Binh.
Admire the scenery of ancient Hoa Lu Street with bold beauty of the Ancient Capital
Hoa Lu Ancient Town in Ninh Binh is divided into 2 areas: Product introduction area and food court. Here, a lot of traditional handicraft products of craft villages in the province and neighboring provinces are displayed, honoring the traditional beauty that has existed for many generations of a heroic national history.
This place was designed and built according to the space architecture of Vietnamese culture in the past. Therefore, when coming here, visitors have the opportunity to experience daily life, as well as feel the artistic quintessence from many generations. The ancient features are accurately reproduced, creating a feeling of closeness and familiarity in the hearts of many people.
Hoa Lu Ancient Town promises to be an attractive Ninh Binh tourist destination attracting tourists from near and far to visit, contributing to embellishing the tourism picture of the ancient capital of thousands of years of civilization.
In addition, when coming to Hoa Lu ancient town in Ninh Binh , visitors will enjoy traditional, delicious and flavorful dishes. One of them must be mentioned: honey cake, sticky rice cake, chung cake, gai cake, day cake, rice paper…
The distinctive flavor of each region is also an art of recreating well done by everyone. Therefore, children who are far from home, when having the opportunity to visit, will have the opportunity to enjoy the specialties of their homeland right in the ancient capital.
A special highlight when you come to the old town, at night the two stupas next to the old town are lit with shimmering electric temples. Therefore, you will feel the shimmer and magic here. At this time, Hoa Lu ancient town seems to be wearing a new coat with the fanciful, lotus and brilliant colors of the lanterns. Therefore, people will feel impressed and strangely attracted.
In the distance are splendidly decorated basket boats, helping you to visit the river, see the image of the old town at night so poetic. Everyone will have the opportunity to save beautiful and chill photos. That's why anyone who has the opportunity to set foot in Hoa Lu ancient town in Ninh Binh feels very new and unforgettable.
"Through the air" to Hoa Lu Ancient Town in Ninh Binh imbued with national identity
About Hoa Lu Ancient Town Ninh Binh
Where is Hoa Lu Ancient Town in Ninh Binh?
How much is the entrance ticket to Hoa Lu Ancient Town?
What is there in Hoa Lu Ancient Town Review?
Some questions from visitors to Hoa Lu Ancient Town in Ninh Binh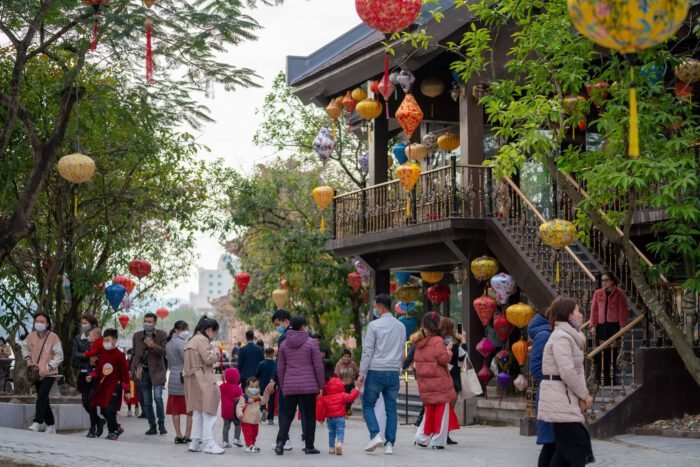 Who does Hoa Lu ancient town worship?
Hoa Lu ancient town is the place to recreate the traditional space of Dai Viet in the 10th century including ancient architecture and culture, This area is near Silver Pagoda – Ky Lan mountain worshiping Buddha and gods according to legends of the people. people of Ninh Binh.
Currently, this place has not yet collected admission tickets, so you should take advantage to explore early. Should avoid going to the old town on the weekend to reduce the crowd. So you can comfortably visit and have wide and comfortable shooting angles.
You should dress decently, politely and appear serious when visiting Hoa Lu old town to make a good impression on locals and tourists from all over the world.
In the process of sightseeing, exploring, eating, checking-in, you try to keep it clean and tidy so as not to lose the beauty of the place and make the cleaning workers work harder.
What services does Hoa Lu Old Town have?
Accommodation service at Hoa Lu Hotel (3 stars) right next to Hoa Lu old town.
Experience visiting Ky Lan lake.
Participate in folk games at the common yard of the Old Town such as eating mandarin umbrellas, jumping stalls, playing bamboo games, etc.
In addition, the food stalls, the old town cafe … are also places to stop many tourists.